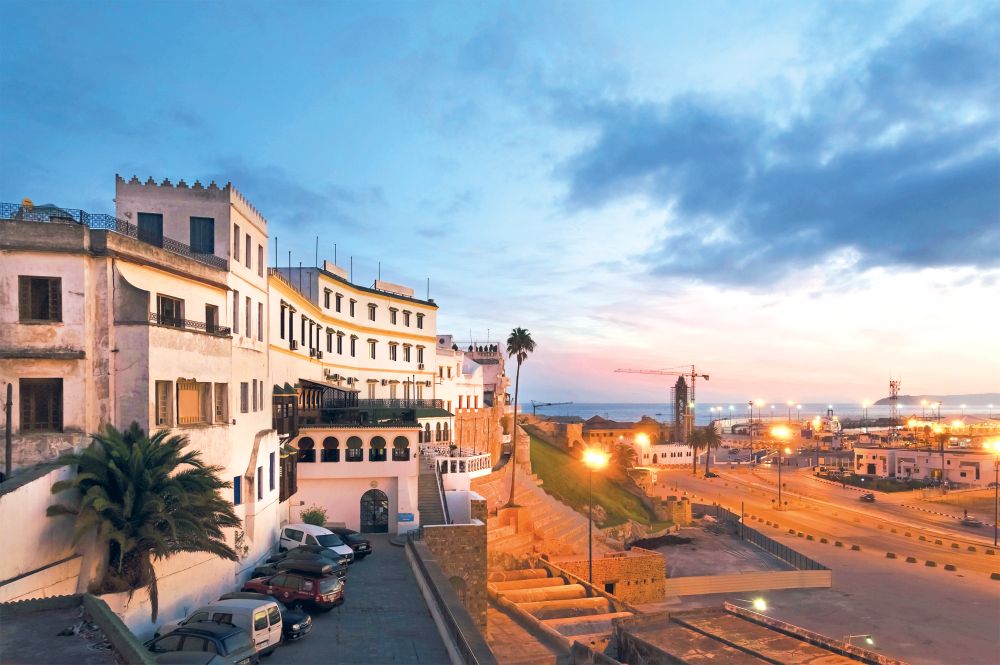 Tangier morocco grand tours 15 days
Day 1 :Tangier
Our guide will take you into Tangier for a short city tour. After the tour we will have dinner at the hotel in medina.
Day 2 : Tangier – Chefchaouen
Today we will continue our journey towards Chefchaouen. On our way we will cross the Rif Mountains and we enjoy the wonderful views that this mountain chain has to offer. In Chefchaouen we will have a tour of the city-city with blue and white lime-washed houses. At the end of the day we will have dinner at our riad.
Day 3: Chefchaouen – Ouazzane – Meknes – Volubilis – Fez
Today we will depart to Fez in the morning and on our way we will visit Ouazzane to have lunch and from here we will drive towards Moulay Idriss which is an important religious site in Morocco. Then we will continue and drive to Volubilis -an archaeological site and features the best preserved Roman ruins in this part of northern Africa. (UNESCO World Heritage site in 1997). We head to Meknes where we will visit the famous gates Bab el-Mansour and Bab el Khamis. In the late afternoon we will arrive in Fez where we have dinner at our hotel where we will be staying this night.
Day 4: Fez guided tour
This day is especially dedicated to Fez, one of the oldest imperial cities. Fez was Morocco's capital for more than 400 years and is still considered the religious and cultural centre of the country. We discover the extraordinary medina El Bali (is worth a few days walking in itself). Other highlights include the Merenid tombs, the Royal Palace, the Medersa Bou-Inania or Attarine, place Nejarine with its splendid mosaic fountain and the Mellah (Jewish quarter). In the evening we will have dinner at our hotel.
Day 5: Fez – Midelt – Erfoud – Merzouga
Today we will continue our tour towards Merzouga. On our way we will enjoy the beautiful views of the Mid-Atlas Mountains while we're passing through. We will drive through cedar forests and gorgeous towns (Ifrane and Azrou). On our way to Merzouga we will have lunch in Midelt and then we cross the High Atlas mountains and drive through the gorges of the Ziz. The gorges are the result of the power of the Ziz River. We drive Via Erfoud to the famous dunes of Merzouga (Erg Chebbi) where we will have dinner and we stay in nomad tents overnight.
Day 6: Merzouga – Tinghir – Boumalen Dades
Today we will watch the sunrise over the sand dunes of Merzouga and then we continue towards Boumalen Dadès. On our way to Tinghir we'll be pass through Jorf and Tinjdad. We will explore the gorges of the Todra. After we had lunch in the beautiful area we will depart to Boumalen Dades where we'll be staying for the night.
Day 7: Boumalen Dades – Ouarzazate
In the early morning we'll depart to the Valley of the Roses. After visiting this town we'll continue our journey to Ouarzazate and on our way through the Skoura oasis we will visit the famous monument Taourirt Kasbah (one of the most attractive and beautiful sites in southern Morocco). There is also the opportunity to visit the movie studios of Ouarzazate, these studios are known as Moroccan Hollywood. We'll have dinner at our hotel in Ouarzazate.
Day 8 : Ouarzazate – Marrakech
Today we'll continue our journey to Marrakech, one of the four imperial cities in Morroco. On our way way to Marrakech we'll stop at Aït Ben Haddou old Kasbah (UNESCO as world heritage). Then we'll continue towards Marrakech. On our way we will pass the highest road pass in North Africa. In Marrakech you will have the afternoon to yourselves so you can enjoy the magnificent city – city full of life and enthusiasm as its omnipresent dynamism shows.
Day 9: Marrakech
Today we'll explore the city and we visit the highlights of Marrakech – Koutoubia mosque , Saadian tombs , El Bahia Palace. In the afternoon we'll visit the famous Djemaa el Fna square and its souk. After a full day of exploring Marrakech we'll end our day with dinner at the hotel.
Day 10: Marrakech – Agadir
We will leave Marrakech and we drive to seaside resort Agadir. You will have the day to yourselves to explore the city or to rest on the beach. In the evening we'll have dinner at our hotel.
Day 11: Agadir – Essaouira
Today we continue our tour towards Essaouira (called Mogador). It is ideal for fishing, windsurfing and kite surfing. The harbor is a delightful diversion, filled with colourful boats that have been carefully decorated by local fishermen. We stay here overnight.
Day 12 : Essaouira – Casablanca
Today we will continue our journey to Casablanca (economic capital of Morocco). We´ll take the coastal road to Casablanca and stop on our way at Safi and El Jadida. In Casablanca we will free program and you can dicover the city on your own and then we will have dinner and we stay here overnight.
Day 13 : Casablanca – Rabat
Today we´ll visit the highlights of Casablanca – Place Mohamed V ,Parc de la Ligue Arabe, amazing Hassan II Mosque. In the afternoon we continue our trip and drive towards Rabat, one of the four imperial cities. We will visit the tower of Hassan V (minaret was begun by the Almohad sultan Yacoub al-Mansour in 1195 and was intended to reach 60m, making it the largest and highest in the Muslim world). Then we will visit the marble Mausoleum of Mohammed V. We stayin Rabat overnight in local hotel.
Day 14: Rabat – Asilah
In the morning we depart to Asilah (one of the most beautiful old cities of Morocco). It's a peaceful beach village on the Atlantic coast which is known as an intimate, sophisticated introduction to Morocco, with galleries lining the narrow streets. The town has Mediterranean-influenced buildings, including whitewashed houses with blue accents. We´ll explore this beautiful whitewashed town and have dinner at our hotel.
Day 15: Assilah -Tangier
After having breakfast we drive back to Tangier. We will visit some of the interesting places and we transfer you to the port or airport before your scheduled departure.
Included
Private tour in comfortable air-conditioned vehicle.
Accommodation during the trip (Riad or hotel + desert camp).
Pick up from your accommodation.
Exclusions
Fees to enter some monuments.